When scouting college basketball players, it is important to take in the whole picture. Not just stats and not just team success can paint even half of the picture. Everything requires context and a keen eye in order to figure out what a player's NBA role will be. There are plenty of great college players who won't be great NBA players (look at Mike Daum). Isaiah Roby fails the statistical test, which could be a reason that most major media outlets that cover the draft don't even have him as a top 60 prospect. Roby does, however, pass the eye test with flying colors, positioning him in the lottery on my big board.
As a sophomore at Nebraska, Roby posted pedestrian splits of 8.7 points, 6.3 rebounds, 1.7 assists, and two blocks per game. He played only 24 minutes per game but shot the basketball at an incredibly efficient rate, shooting 56.5% from the field, 40.5% from three, and 72.4% from the free throw line. Roby's physical tools are impressive: 6-foot-8, 230 pounds with a 7-foot-3 wingspan, and 21.4 years old at the time of the draft.
Roby's biggest strength is the fact that he has no weaknesses. Sure, he is still raw and he can improve part of his game, but he does do everything you would want a player to do. His versatility on offense is very impressive and his tools and defensive ability suggest that he could be a legitimate multiple-position stopper at the next level. Unlike other very well rounded wings (see Louis King), he actually has some elite traits and signature strengths, being shot blocking and passing. Let's break down Roby's game and why he is a borderline top 10 prospect.
Defense
With a lot of prospects, people slap the label "multiple position defender" on them without any basis. Isaiah Roby is a legitimate 1-5 defender at the college level and should be able to defend 3-5 in the NBA. His length, timing, and vertical explosiveness make him a very talented shot blocker. When watching Roby's tape, his wingspan pops off of the screen, using his length to contest well and block shots: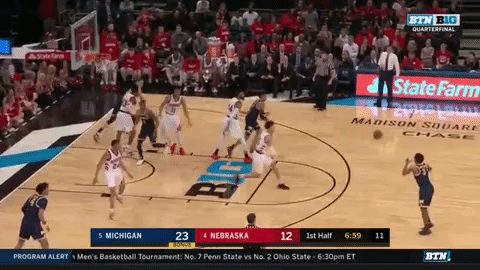 His jump is quick enough to be a consistent shot blocker. He has tools to be a primary defender in the post and alter shots down low:
Roby stays low and in a stance, uses his good feet, and long strides to stay in front of opposing guards. When perimeter players beat him, Roby's timing and athleticism allow him to recover: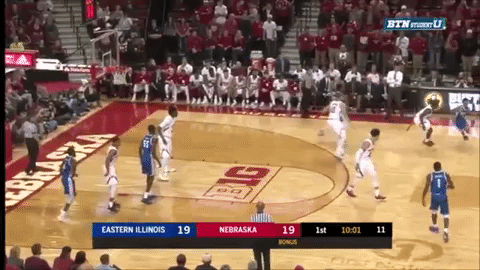 Roby's length and athleticism make for a good pick-and-roll defender. When tracking back, he often uses his length to essentially guard for two defenders at once, often resulting in blocks: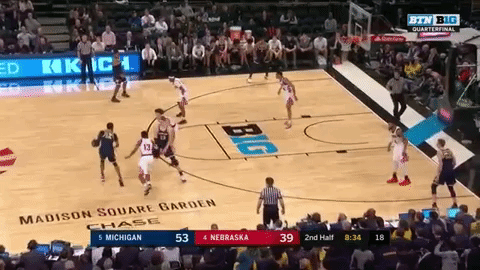 For a guy who is 6-foot-8 and 230 pounds, offensive players move him off of his spot with relative ease. He gives up low post position too easily and struggles to compete with strong big men:
Like almost every college player, Roby is still learning how to be a good team defender. He does miss his spots and fails to help but he is solid as a team defender. He has a decent understanding of rotations, angles, and spacing for a guy his age. Roby is very solid as a one-on-one defender. In the NBA, he's probably best suited as a four but he has the IQ and tools to competently defend 3-5. I wouldn't count on Roby consistently defending guards but he should be able to switch with some success.
Feel/IQ
Isaiah Roby's feel, basketball IQ, and coordination stand out. For a player as young as Roby, he is incredibly smart. His passing ability is excellent; Roby can pass on the move, out of the short roll, or as a ball-handler. Here, the PNR ball-handler doesn't pass to the roll man. But when Roby gets the ball, he sees the roll man entering space and zips a pass to him for an easy score: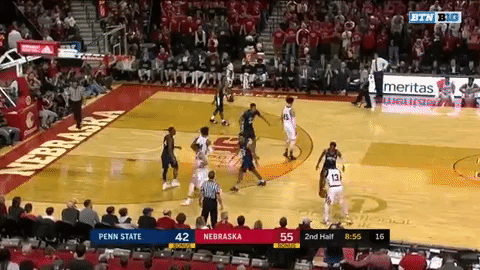 Roby excels at passing to cutters. Dribbling the ball to the wing, Roby passes the backdoor cutter open for an easy slam: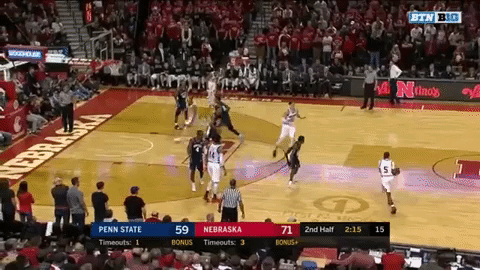 Roby has flashed potential as a passer on the move and in transition but that area of his game is still raw. He turns the ball over often when creating on the move and as a PNR ball-handler but his willingness to do so is encouraging: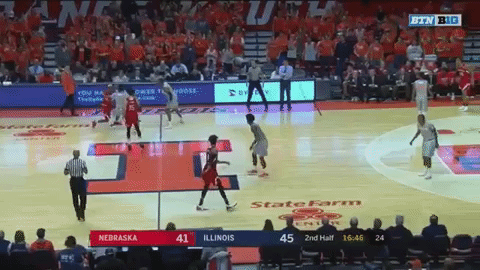 He often makes the right read but fails to execute the pass: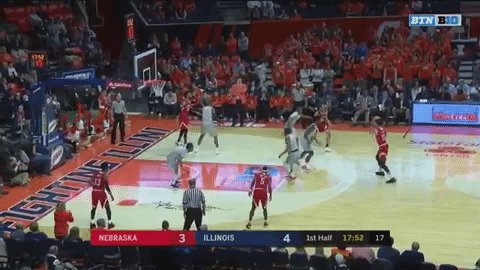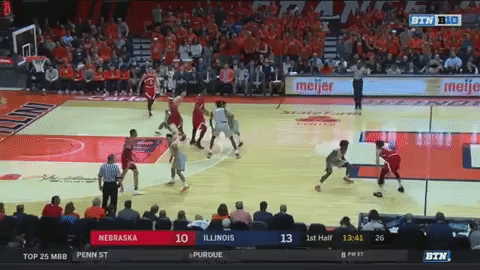 Pushing the ball in transition, Roby makes the correct read here. However, he chooses the wrong pass. He should have thrown a bounce pass but instead goes for the lob: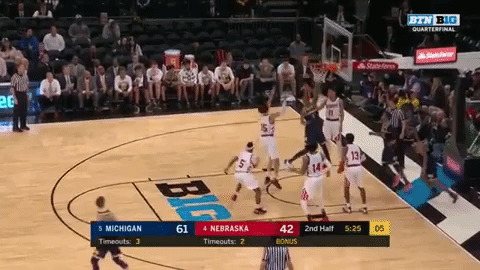 Roby's ability to see the floor and quickly diagnose the floor is exceptional for a player of his age and athleticism and projects well to the next level.
Roby's offensive instincts are very good and the place he best displays this is as a PNR screener. As a roll man last season, Roby scored 28 points on only 16 possessions, ranking fifth in the nation in points per possession as a roll man (among players with 15+ possessions as a roll man.) His feel as a roll man is incredible; Roby rolls with a purpose and is excellent at finding the open space in the defense. His threat as a pop man opens up his roll game as well. Roby's patience and quickness open up easy baskets at the rim:
His instincts as a cutter are great: coming off of the dribble handoff, Roby is patient, dives to the rim, and gets the easy lob: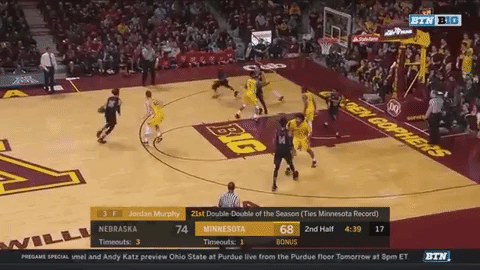 Roby has a knack for little high IQ plays that go largely unnoticed but are a great indicator of his instincts. Using his length, timing, and feel, Roby loves to tap missed shots back out to his teammates:
For a player with his athleticism and level of skill, Roby's basketball IQ makes him a valuable prospect. He simply understands the game of basketball better than most of his peers and is more coordinated than players smaller than him. This is an undervalued talent that should make Roby a valuable contributor at the next level.
Shot Creation
Roby's posts an effective jump shot, shooting 40.5% from range. Granted, he only shoots 1.3 threes per game but his mechanics look good. The shot is smooth and in one motion. He doesn't jump too high, has good hip alignment, and good foot placement:
Roby will be an effective catch-and-shoot player at the NBA level. What makes him special is the ability he has flashed pulling up. Roby was ridiculously efficient on pull-up jumpers last season. The sample size was tiny but he shot 9/12 on jump shots off of the dribble, good for a 96% effective field goal percentage. He looks comfortable taking shots off motion and looks fluid doing it. He gets his shot off quickly and doesn't need a lot of time and space to create openings: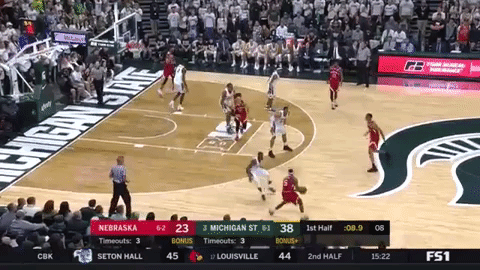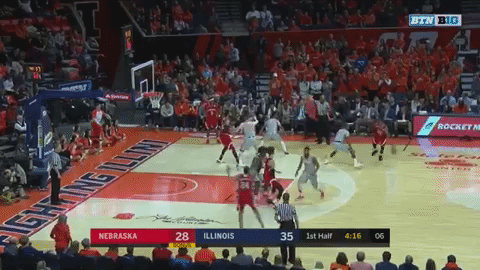 When teams try to run Roby off of the line, he makes them pay. This pump fake into side step for a three-pointer is very important and a great indicator of his talent: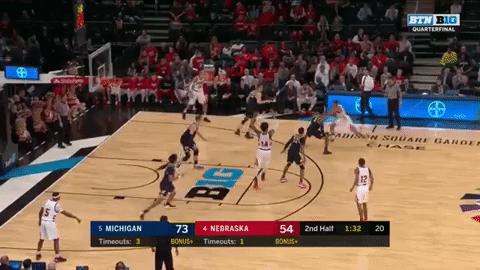 Roby has a solid handle and uses his long, fluid strides to get into the paint. He has the quickness to beat slower defenders to the rim. Roby shows an ability to finish with both hands inside: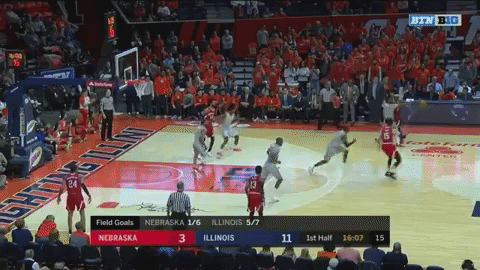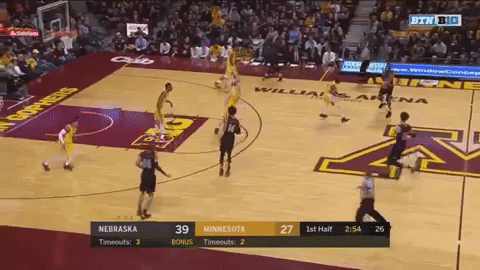 Roby finishes well around the rim due to his length and explosiveness. His range forces defenders to close out, which he attacks effectively:
Roby is not going to be a primary offensive option at the NBA level and won't be asked to score a ton of points. Yet, he can create his own shot when called upon. Roby only posted a 17.3% usage rate last season; his offensive responsibility was limited. This season, hopefully, he can take on more offensive responsibility and display more of his offensive ability.
Conclusion
Many college prospects get labeled as potential three-and-D players at the NBA level. People neglect the fact that these guys need to do more than shoot open threes and play on-ball defense to make it in the league. Especially at the college level, these players have to show more of their all-around game. Isaiah Roby has a well-rounded game at the college level. Some of his skills, like his pull-up, likely won't translate. His physical tools, skill set, and IQ will be valuable to any NBA team.
However, his rim protection and passing vision should. Roby doesn't have star upside but he has all of the makings of a very high-level role player in the NBA. If he can create his own shot in the NBA and run some more pick-and-rolls, he could be a very effective NBA scorer.
As Isaiah Roby gets more minutes this season for Nebraska, I expect his stock to rise. He won't be a sleeper by the time next summer rolls around. But for now, you can confidently leave angry comments on ESPN mock drafts for omitting this incredible talent from their mock drafts.