The first week of the NCAA's Men's Basketball season is underway. On the NBA Draft side of things, freshmen predictably break out and find themselves on the radar of the draft community. One week is not enough time to make any rash decisions, but players have made an impression. In this article, I'll go over some prospects who have impressed so far.
Zion Williamson, Duke (FR)
Given that Zion Williamson was already the top prospect on my board, including Zion on this list is probably cheating. But this is my article and I like talking about Zion. In all seriousness, Zion Williamson proved to me that he occupies a tier by himself in the 2019 NBA Draft class. He is the king and everyone else is a peasant.
Williamson has answered all of the questions that people had about him. He is handling the ball, making plays for others, and even flashing some pull-up shooting ability. His stat line of 25.3 points per game with a .799 true shooting percentage (per Sports Reference) is ludicrous and certainly unsustainable. Still, Williamson's style of play should have him always posting high-efficiency marks. His three-point shot has fallen to a 33.3 percent rate, which is higher than many expected despite the low volume.
Williamson is one of the best prospects we have seen in a long time and no prospect in this class will come anywhere near the top ranking of draft boards besides Zion.
Kevin Porter Jr., USC, (FR)
Many people were high on Kevin Porter coming into the season and he is living up to all of that pre-draft hype. When it comes to pure scores, Kevin Porter is one of the best in this class. Porter's combination of frame and athleticism combined with his skill is ridiculous. Porter's step-back jumper has shown to be lethal; his release is low but he creates so much space on that move: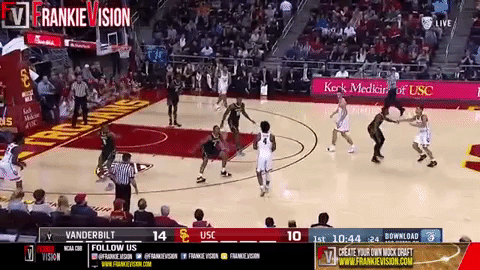 His handle and footwork allow him to get to his spots whenever Porter wants. On defense, Porter has been much better than I could have expected. His instincts and feel on that end look solid. Off the ball, he knows how to tag the roll man, switch, and play the passing lanes. Those instincts combined with his physical profile could lead to Porter being a very good NBA defender.
Kevin Porter hasn't had the volume of other top prospects, only playing 23.7 minutes per game averaging 13.7 points. Porter is certainly in the top 10 discussion on 2019 NBA Draft boards, but I am hesitant to rank him in the top three or five until the usage increases, which it should.
Kezie Okpala, Stanford (SO)
Okpala has seen a massive increase in his production from his freshman season. He has been the driving force for Stanford's offense. He seems to have added new tools to his toolbox in the offseason; his handle and touch, while not incredible, is much improved from his freshman season.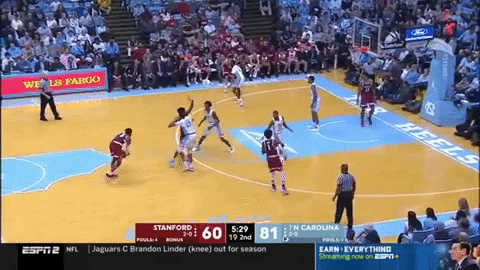 6-foot-8, 200-pound wings with a plus wingspan, a three-point stroke, and handles and touch like this don't grow on trees and provide so much value to NBA teams: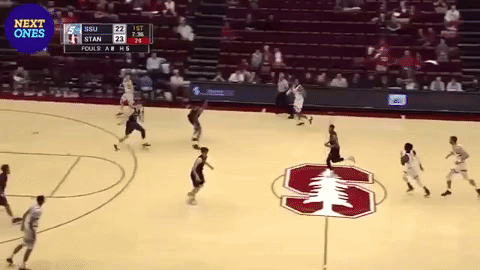 His defense has looked impressive as well; his physicality and instincts make him a solid overall defender. Due to the lack of players in this class with shooting+frame+skills in this class, Okpala should easily be a first-round pick come 2019 NBA Draft time.
Josh LeBlanc, Georgetown (FR)
A four-star recruit out of Baton Rouge, Josh LeBlanc didn't crack the ESPN's Top 30 recruits in the East region. The 6-foot-7, 210-pound freshman forward has already made a marked impact on the Hoyas, though. LeBlanc has only played three games but his statistical indicators are auspicious. A .791 true shooting percentage, 8.3 block percentage and 3.5 steal percentage (per Sports Reference) are encouraging. LeBlanc hasn't attempted a three-pointer but his stroke looks alright and he is shooting 71.4 percent from the free throw line.
It is really too early to evaluate using any statistical models but the tape has been impressive. On the defensive end, LeBlanc's combination of frame, athleticism, effort, and instincts make him a solid individual defender and a game-breaking off-ball defender. LeBlanc has made multiple excellent instinctual plays, including an impressive off-ball steal and a transition layup.
On offense, LeBlanc often looks lost and wanders into the way of the play, disrupting the flow of the offense. He hasn't had much of an opportunity to showcase his offensive skill set in Georgetown's offense but he looks like he has some solid passing instincts. On the offensive glass, his impeccable motor and athleticism will lead to a bevy of highlight putback dunks like this:
More angles of Josh LeBlanc's putback dunk. The kid has the goods, folks. pic.twitter.com/yVkE6cfcsH

— Hoyas247 (@Hoyas247) November 14, 2018
Josh LeBlanc probably isn't a 2019 NBA Draft guy due to his limited offensive game and possible lack of exposure. However, he has the base of a bankable NBA skill set and the freshman trio of him, Mac McClung and James Akinjo will be exciting to chart over the coming years.