The NCAA Men's Basketball season is still an infant and it has already thrilling. The first day of the season featured the Champion's Classic, with battles between Kansas and Michigan State and Duke and Kentucky. These two games have already given us significant information on many future NBA Draft prospects. Kansas' tight win and Duke's blowout win are shaking up draft boards. With that being said, here are my thoughts on some prospects who played in the Champion's Classic.
Quentin Grimes
Quentin Grimes' performance turned heads in the community. In his college debut, Grimes displayed great confidence in his shot, stroking six three balls for 21 points. However, Grimes didn't show anything outside of his three-point shot (I still have questions about his form but if it works, it works). He failed to create any offense for himself, which was one of my main concerns with Grimes. On multiple occasions, he missed badly on pull-up jumpers in which he failed to create any space. I hope Kansas gives Grimes more of an opportunity to create for himself in future games.
On the defensive end, Grimes was not impressive. He did jump a few passing lanes but his off-ball defense leaves a lot to be desired. Michigan State routinely beat him back-door on cuts and ran him off screens. Grimes' lack of effort defending the perimeter was concerning; Matt McQuaid beat him off of the bounce multiple times: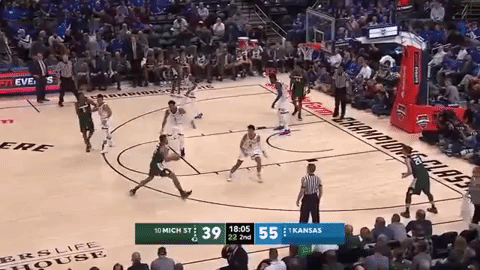 I need to see more from Grimes in the future in order to justify some of the top 10 hype he is getting. This isn't a stock down game for me since I am already low on him, but I was fairly disappointed.
Devon Dotson
On the other side of the spectrum, I was impressed by the play of freshman point guard Devon Dotson. Dotson did have a bad case of the yips in this game: dropping passes and, looking out of place but this is hardly anything to be concerned about for a freshman in his first game. His jump shot has a bit of a hitch and his elbow flares out on occasion.
Unlike Grimes, Dotson showed good bounce off of the dribble and an ability to penetrate and finish at the rim through contact and with creativity. On defense, Dotson played with tenacity, pressuring the ball-handler and getting his hands on the ball. Kansas' offense primarily flowed through Udoka Azibuke post-ups but Dotson was able to make plays for himself and others.
Dedric Lawson
Dedric Lawson's game went as close as possible to what I expected of him. After Bill Self touted him as the best passer he'd ever coach, Lawson proceeded to run Kansas' offense, acting as a de facto point guard. His passing vision and timing are impressive and an auspicious sign for his future potential NBA role. His frame gives him an advantage over smaller defenders on offense and his high IQ was on display against Kansas.
Lawson's weaknesses were on display as well, though. His lack of mobility and vertical explosiveness had him struggling to defend anyone on the Spartans' roster. The Spartans netted multiple wide-open threes off of poor effort by Lawson closing out. Lawson also struggled mightily to hit shots on Tuesday but he is a better shot-maker than this game suggested. The vertical explosiveness problem also exists at the offensive end, hurting his ability to convert down low: His lack of quick twitch will hurt his ability to attack from the perimeter but his combination of IQ and skill should lead to offensive success in the future.
Zion Williamson
Tuesday night was a vindicating night for all who held Zion Williamson as the clear top prospect in this class. Against the Wildcats, Williamson's performance was nothing short of not human. His full repertoire of abilities was on display, from his thundering athleticism to his deft touch, to his tight handle, and to his gaudy offensive rebounding ability. I don't need to explain to you how Williamson's explosiveness, fluidity, balance, and coordination is generational, so I will touch on the myriad of other facets of his game that impressed me.
As a passer, Williamson knows how to use his gravity as a driver and a cutter to find open teammates. Running in transition, defenders are afraid to leave Williamson alone, creating openings for the other Blue Devils. Handling the ball, Zion unleashes a tight and devastating handle. Williamson had a play where be beat E.J. Montgomery off of the dribble with a quick crossover and used a hop step to get in position to finish: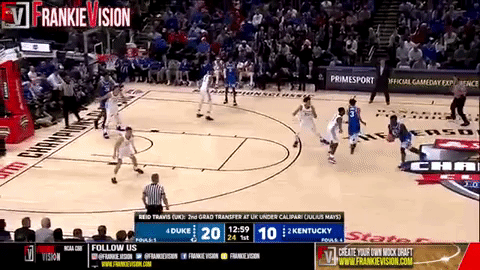 Williamson also hit an open three and a gorgeous 20-foot pull-up jumper off of the dribble.
Standing at 6-foot-6, Zion Williamson might be the best rebounder in the country. He is a true predator hunting out rebounds on the offensive and defensive glass. Even when Williamson is boxed out, his leaping ability allows him to snatch rebounds out of his opponents' hands. Zion still needs to sit in a stance on defense but his motor is undeniable and the fear he instills as a shot blocker is an engine for the Devils' defense. This game all but fueled my unconditional love for Zion and his status as the unopposed top prospect in the next NBA Draft.
R.J. Barrett
After Duke's win, many people came away with the idea that R.J. Barrett is on the same level as Zion as a prospect. Don't get me wrong, Barrett had a fantastic performance against Kentucky, but isn't in the same tier as Zion. Barrett's loose handle will limit his upside as a creator in the mid-range and beyond and stifle his upside as a primary initiator. In the half court, his decision-making was sub-par. Keldon Johnson did a good job being physical with Barrett and forcing him into tough shots, many of which he converted, to R.J.'s credit. Barrett's defense was solid but he struggled to keep Johnson out of the paint and was occasionally taken advantage of off the ball.
When R.J. has a head of steam heading towards the bucket, the defense may as well back off and lay out a red carpet because it will yield the same result as attempting to defend the guy. R.J.'s unique combination of lower body and core strength, balance, body control, and touch is uncanny. His ability to use his long strides and step around and/or through defenders makes him a terror at the rim. I wish Barrett would develop a 15-foot pull-up so he doesn't feel inclined to take so many tough shots, but if he can seek and dominate contact as he did against Kentucky, his only season at Duke will be a dominant one.
Cameron Reddish
Reddish's performance has been forgotten about by some because of the two guys above him. Cam is always calm, cool, and confident on the floor. Reddish calmly splashed three-pointers from NBA range with confidence. He has a smooth handle and an ability to attack closeouts and make plays. On one play, he started on the right wing and drove to his left and finished through contact with his left hand. Reddish is the perfect complimentary piece to Zion and Barrett because of his confident scoring and defensive potential.
Keldon Johnson
The only Kentucky prospect that didn't look miserable against the Blue Devils was Johnson, who was on a different level from his peers. Johnson was fantastic on both ends of the floor. On defense, his strong base, quickness, and effort allow him to wall off drivers and terrorize off-ball movers. He ripped the ball from R.J. Barrett on a drive and ignited a fastbreak: On the offensive end, Johnson uses his strength to relentlessly attack the basket, getting easy shots and drawing fouls. He has a soft touch around the basket, finishing with floaters and layups. He was effective with his pull-up jumpers, hitting one from around 19 feet and another in the lane. Johnson still has refining to do with his jump shooting and overall creation ability, but his offensive skill set is going to get better. He has placed himself near the top of the players that will be in the next NBA Draft.