Jon Elmore is a name that most NBA fans do not know. Even those who follow college basketball won't know much about Elmore. Marshall's senior point guard is nowhere to be found in major media outlets' draft coverage. And on first look, you wouldn't be surprised. The 6'3″, 185-pound point guard isn't going to intimidate opposing teams on sight. On the contrary, Elmore gives opposing coaches nightmares the night before his team is to face off against the Herd.
In his junior season, Elmore led Conference-USA in scoring with 22.7 points per game, adding 6.8 assists and 5.8 rebounds. He carried Marshall to an NCAA tournament berth. Elmore didn't often face top competition, sure, but he diced up Wichita State en route to a round one upset. Dropping 27 on the Shockers, led by NBA point guard Landry Shamet, is impressive. Despite his lack of supreme athleticism and thin frame, Elmore is an NBA point guard. His vision, his shot creation, and pesky defense should have NBA scouts lining up for his services. Elmore did declare for the NBA draft last season but withdrew his name. Heading into his senior season, let's break down Elmore's game.
Elite Trait: Passing
When it comes to pure passing ability, I'm not sure anyone in the nation can top what Elmore brings to the table. Despite only averaging 6.8 assists per game last season, Elmore has the timing, vision, touch, and basketball IQ to top assists charts every season.
Elmore's ability to penetrate opens up shots for his teammates at the rim. Elmore beats his man here, draws Ajdin Penava's defender, and dishes it off for an easy flush: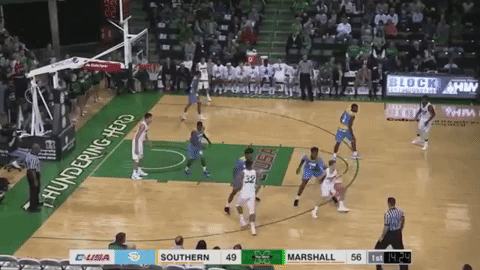 The alley-oop pass is a specialty of Elmore's; his touch and timing on lobs are impeccable and Marshall's offense generated alley-oop opportunities often. Aaron Rodgers-esque, Elmore hits the cutting Penava on time, putting the ball only where he can catch and slam it.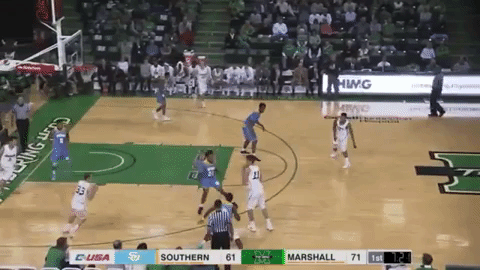 As spectacular as it seems, this is a fairly common action that the Thundering Herd run. Here they set up in a horns set and the two bigs appear to be setting a double screen for Elmore. When Rondale Watson's man falls asleep for just a half second, he promptly cuts to the basket for the perfect lob pass from Elmore: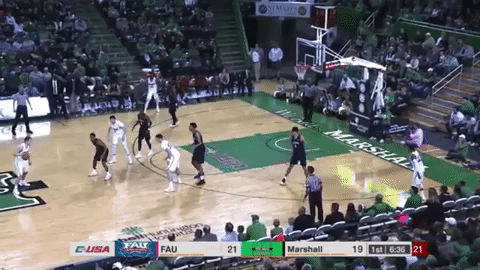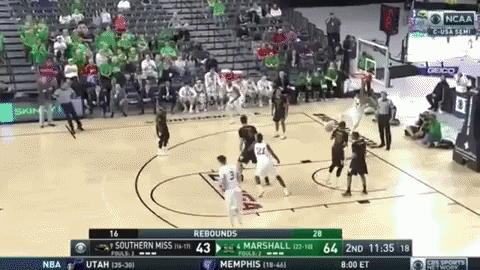 This is a quirk in Elmore's game that I look at as both a negative and a positive. He can often be indecisive in his actions, passing the ball in midair and changing targets on a dime. This occasionally gets him into trouble but it can also work to baffle the defense. The threat of Elmore's stepback draws in the roll man's defender for a split second, opening up a window for a lob: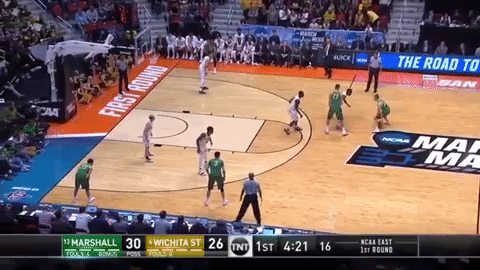 Elmore is clearly strong at making reads in all capacities. He is a sneaky good rebounder (5.8 TRB) and uses this to his advantage, creating transition buckets for his teammates, displaying excellent vision in the open court. Elmore relies a bit too much on the lob pass, electing to try and lob the ball over the defender instead of pocket passing. Combine that with his indecisiveness and tendency to make some risky passes causes him to turn the ball over at a fairly high rate (16.1 TOV%). Still, his elite vision, timing, and IQ project him as a fantastic passer at the next level.
Shot Creation
Elmore's proficiency working in the pick-and-roll will benefit him in the modern NBA which is so focused on the PNR. As previously detailed, Elmore is excellent at finding the big man on rolls and kicking to shooters when the defense collapses. He is also able to use the pick-and-roll effectively to score.
Elmore uses the threat of the pass to the roll man to coax the big man into stunting his hips to the right, away from Elmore. He takes a hesitation dribble and explodes to the rim when the defender gets out of position. His patience is refined and one of his most useful skills when attacking out of the pick-and-roll: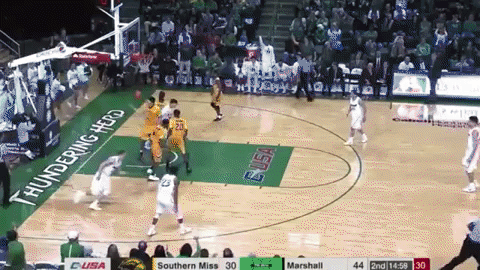 Elmore looks like he is setting up a high ball screen before faking the handoff and turning the corner, finishing high off of the glass with his off hand.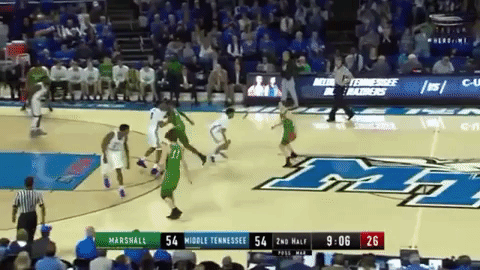 Elmore finishes with great touch around the rim and is just as proficient with his right hand as his left. When he finishes, it's usually high off of the glass.
Coming off of the drag screen, Elmore turns the corner before executing a perfect behind the back snatch back. The threat of his jump shot opens up a lane to cross back over and get to the rim: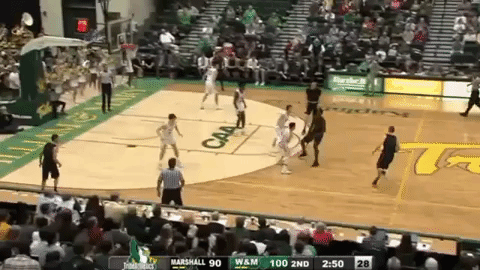 Despite his lack of functional strength, Elmore finishes well around the rim. He struggles a bit against very good athletes but generally, he is able to beat better athletes with creativity and touch. One of Elmore's favorite moves is this spin move, where he initiates a drive with his right hand before spinning back to the left. This move routinely takes his defender off balance, opening up easy shots: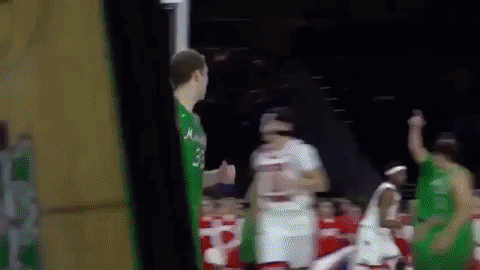 Elmore is great at drawing fouls; he ranked third in the country in attempted free throws with 281. When driving to the basket, Elmore displays exceptional footwork. He uses crafty and unorthodox footwork often to throw off the timing of shot blockers, opening up space. Here, Elmore pulls out a patented Tony Parker move, the one step, inside foot, inside hand finish.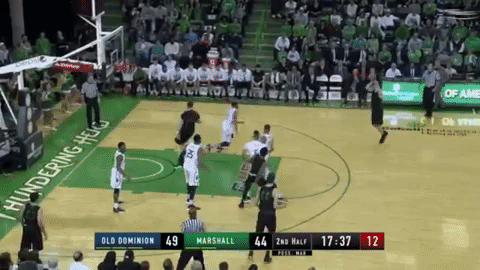 In transition, Elmore uses opposite footwork once again, using the inside hand to finish with the reverse layup. He uses the rim as protection from shot blockers well: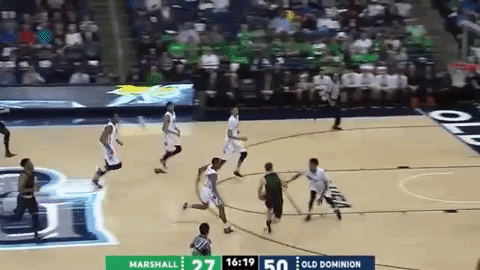 Against tough, athletic defenders, Elmore can struggle in one-on-one situations. His handle isn't the tightest and he doesn't have the elite foot quickness to beat great defenders.
Elmore's step back is one of his most deadly weapons. He uses the threat of the pass and his excellent footwork to open up shots. Like James Harden, he uses a gather step to open up space: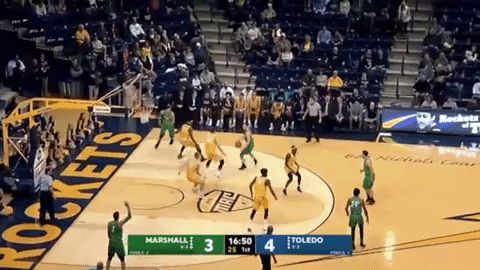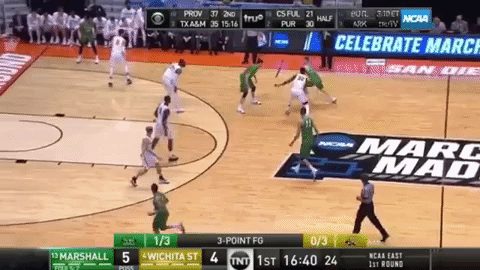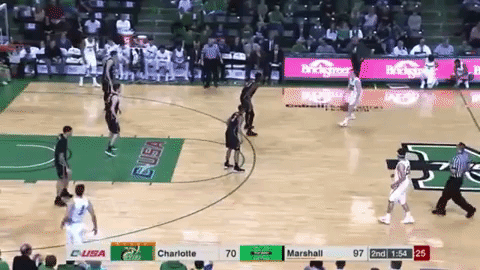 Elmore's shot is quick and compact. One motion, excellent balance, and the perfect arc make for an NBA ready shot form. His range is limitless and forces the defense to work exponentially harder to contain Elmore: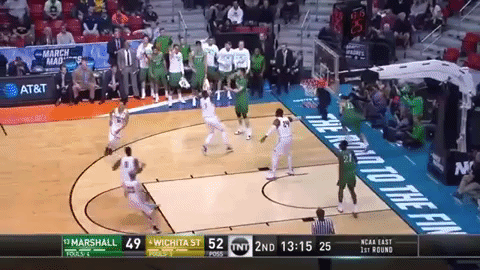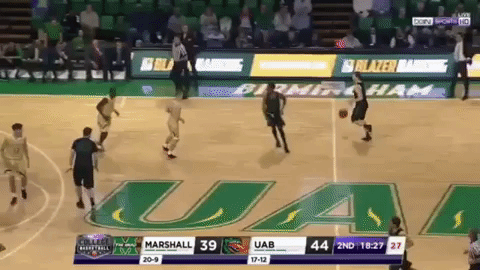 His consistency from deep is average and his percentage has dropped every season he's played at Marshall. Still, he shot a solid 36.7% from deep on 8.2 attempts per game last season to go along with an efficient 82.1% from the line and a true shooting mark of 59.3%. His high 28.2% usage rate is likely inflating his stats and decreasing his percentages. Marshall leaned on Elmore heavily, as shown by him ranking seventh in the nation in total minutes at 1,380 and third in minutes per game at 38.3. His usage also contributes to his third rank in turnovers at 132. However, he must be more diligent with his decision-making.
Elmore has a knack for hitting shots that suck the air out of a building and demoralize a defense. Some of the shots he takes have absolutely no business going in: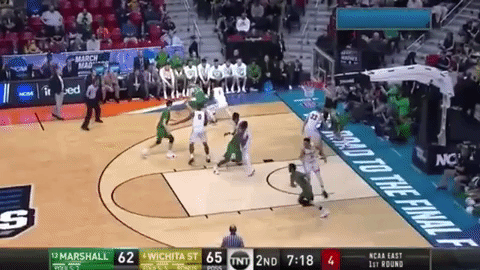 On the opposite side of the coin, Elmore occasionally has no business taking shots like these and tries to make something out of nothing. His shot selection is a bit concerning but he did shoot at a fairly efficient clip even with his errant nature. Elmore did rank second in the nation in points produced at 859, second to only Trae Young. This season, Elmore will have to prove if he can consistently create his own offense against better competition.
Defense
When it comes to isolation defense, Elmore predictably struggles. Elmore is no ball stopping extraordinare; his lack of great athleticism limits his lateral quickness and recovery ability. Stronger offensive players dictate what they want to do against Elmore. Ball stopping will never be a forte of Elmore's and an NBA team will need to account for this.
Elmore does a good job going under the screen here but is simply not strong or quick enough to contain the straight line drive, despite the turnover: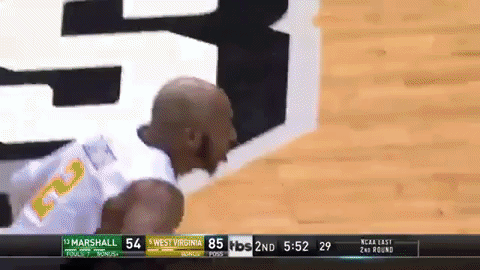 Despite these flaws, Elmore does not look like a liability on tape. His physical limitations are offset in some capacity by his great effort and tenacity. He is a smart pick-and-roll defender and fights through screens well. For a college player, he's refined in his help defense. He knows when to double-team and understands rotations and angles better than most players in his class. He plays the passing lanes well, averaging 1.6 steals per game. Elmore won't be able to defend well in isolation at the next level but his IQ and effort should make up for that.
Conclusion
Jon Elmore is an intriguing case. One may argue that his play is simply a product of his usage and therefore is not translatable. He also faces below average competition nightly and isn't an above average athlete. However, his tape highlights multiple skills that should translate to the next level, namely his ability in the pick-and-roll and his overall passing skill.
I have Elmore graded as a fringe first-round/early second-round prospect at this point in time. If the concerns with him come true he could see himself drop off of my board. However, if he keeps up his dominant streak and continues to best better competition, Elmore could see himself moving up many draft boards. In all likelihood, Elmore will be a later draft pick. Carving out a path like Fred VanVleet seems quite reasonable given his talent and drive. It will be important to watch how Jon Elmore progresses in his senior season.